2nd October 2021
2021 Vow Taking Ceremony

First Vows, Perpetual Vows, Golden Celebration, Diamond Celebration
 
 I am grateful that we were able to hold our Vow Ceremony on a sunny day after the passage of a major typhoon. Although we were not able to hold the usual vow ceremony for two years in a row due to Coronavirus, we were able to hold a ceremony this year filled with your prayers. It was a warm ceremony filled with the thoughts of those who wanted to celebrate with us. Archbishop Isao Kikuchi, Archbishop of Tokyo, presided over the ceremony, and many priests co-presided. In his sermon, the Archbishop taught us how consecrated life should be a way to show hope to those who are suffering during this period of coronavirus. Our congregation is really a small group, as we always say. We do not know what we can do in this world today. However, we all renewed our hearts and hope that each member can sow seeds of hope in their given places and in their given conditions.


continue reading
1st October 2021
Noviciate Initiation Ceremony
 On October 1, the feast day of St. Theresa of the Child Jesus, two sisters were blessed with the grace to enter the noviciate training period. They were Le Nhuyen Vao Vi from Vietnam and Harumi Ito. Despite this coronavirus period, it was also a time of great joy for our congregation.

continue reading
7th September 2021
August 26, 2021~September 4, 2021 yearly retreat
 
 We were blessed to be able to participate in the annual retreat under the threat of coronavirus, by using masks, washing hands, disinfecting hands, etc. Plastic face boards were set up in the cafeteria and in the lecture room. In addition, plastic face boards were set up in the cafeteria and the lecture room. In spite of this environment, which was designed to prevent the spread of infection, we had a very blessed time.
 This year, we asked Father Kenji Yamauchi of the Order of St. Paul to lead us in meditation.
Based on the constitution of St. John, Father Yamauchi invited us to savor the history of the congregation, the foundress Mother Fuku Okamura, and the spirit, purpose, and mission of the congregation. He read from the Gospel of John and the Epistles of John, often referring to his own congregation in his talks, and quoted Paul's letters to bring out more clearly the charism and mission of ours.

continue reading
16th April 2021
16th April Ceremony accepting 2 young women as Postulants
 
Acceptance Ceremony for Applicants
On April 16, two young women were accepted as Postulants. They were Ms. Le Nuyen Bao Vi and Ms. Harumi Ito. Due to Corona, it was a warm, members-only ceremony officiated by Father Kato, of the Catholic Koganei Church. He gave a sermon on the fruit of the vine, and I think all the sisters felt the same way. We chanted silently and reminded ourselves of our charism by uniting our prayers, because now we can not do so loudly. We prayed that we would "bear fruit" and that the fruit would be a source of enrichment for many people. I believe that the two new applicants will also be able to bear fruit little by little. It may not be delicious from the start, but it will certainly be something that will support life. I believe that we have been bearing fruit here in Koganei, Tokyo, for more than 75 years now. We as a congregation and each of our members have been contributing in their own way. And now we have 2 new members. Our congregation is not a big one. It was born at a time when Japan was suffering from poverty and a sense of stagnation, and the light forward was not visible. Now, as then, although economically different, we are also in the midst of a sense of stagnation and lack the necessary light. With the addition of these two new members, we have taken a new step forward. Although it may be small, it is a faint glimmer of hope. It was a bright moment in the midst of Easter. We would like all those who offered up their prayers for us.

8th March 2021
February 27-28, 2021 two-day and one-night vocation's retreat

February 27-28, 2021 two-day and one-night vocation's retreat

The theme was "Stay Connected to Me".

 As usual, we borrowed the Holy Spirit Sister's Meditation House in Koganei. The theme was "Stay Connected to Me. This year, we had been preparing for the event by praying and discerning seriously whether we can make it happen. Thanks to everybody's help, we were able to build a safe and secure prayer space and atmosphere by thoroughly preparing for infection control in advance and taking precautions on the day.

continue reading
31th October 2020
2020 St. John's Congregation's Vow Taking Ceremony
The annual vow taking ceremony was held on the last Saturday of October. This year the Tokyo Archibishop, Kikuchi Isao, presided over the ceremony. Sister Pia Hung Le is the first Vietnamese young woman to take her vows in our congregation. Consequently there were many Vietnamese priests in attendance
continue reading
Vow Renewal and acceptance of candidates for noviciate


The day before the annual vow taking ceremony, we hold a ceremony to renew our vows. This year we also accepted two new members to the noviciate. The two new members were: Ms Bui Ti Li and Ms Nguyen Thi Ha.

continue reading
Congregation's Annual Retreat

This year's annual retreat was held between 17th-26th September at the nearby Holy Spirit Sister's Retreat House in Koganei City, Tokyo, despite the spread of coronavirus virus and all the necessary precautions that were required, such as the wearing of masks, etc. However, It's noteworthy that coronavirus is both a disaster and a great blessing. We are all one global family, regardless of country, united in the same situation.



Nguyen Thi Ha's Postulant Ceremony

On 24th April when cherry blossoms were scattered on the ground and young leaves had began to appear, one of our young sisters entered her aspirant period of training. Ms. Nguyen Thi Ha from Vietnam attended the ceremony which was conducted by Father Yutaka Kato, the Ardiocean priest for the Koganei Church.
St. John's Vocation's Retreat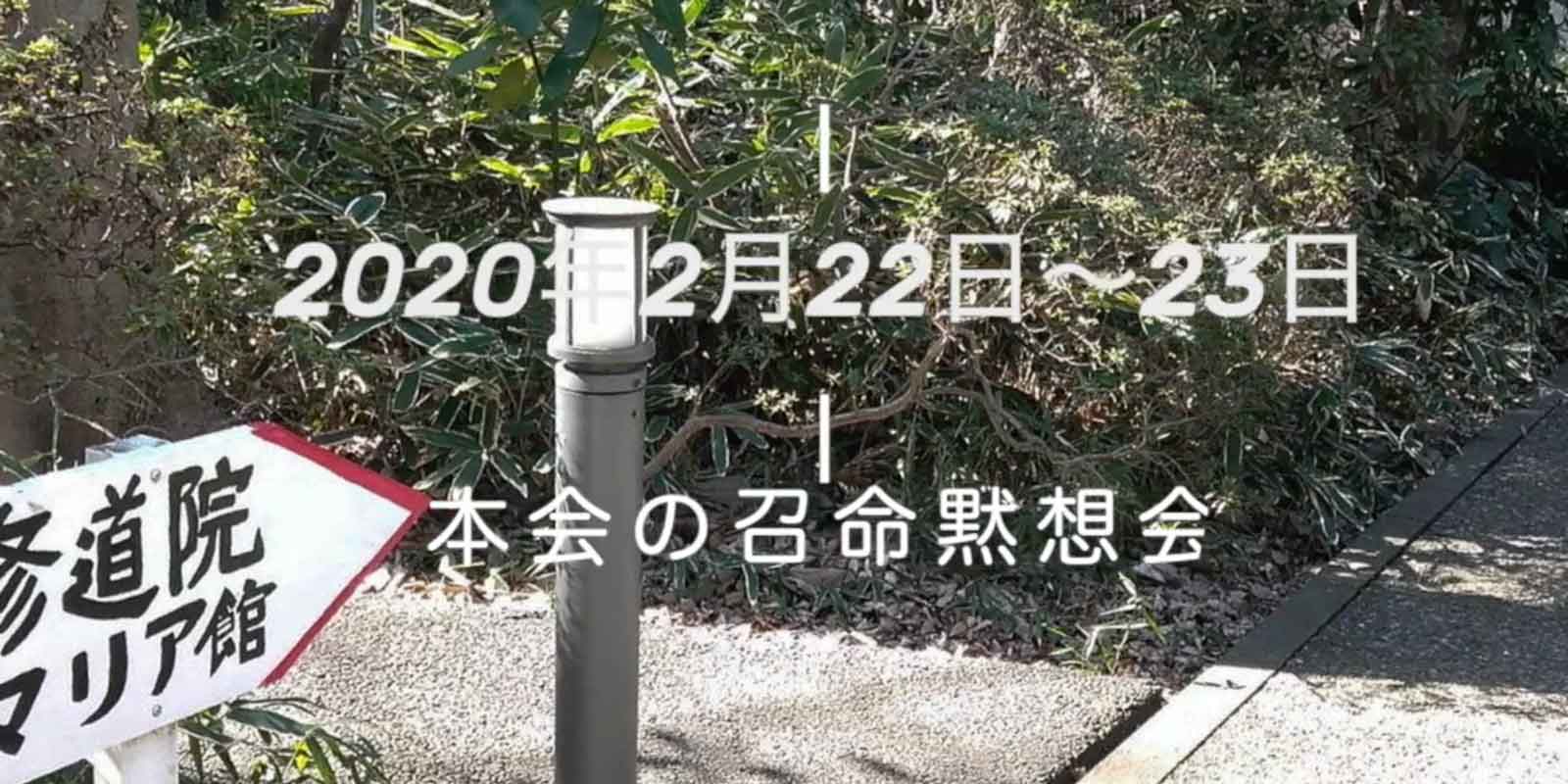 From 22nd to 23rd February 2020, a St. John's vocation's retreat was held. As usual, the venue was the Retreat House of the Holy Spirit Sisters in Koganei City. There were 9 participants, 4 participants, 2 trainees, and 3 staff. This year, we were blessed with fine weather, and for two days we had a calm and relaxing time for meditation in the fresh winter air and warm and soft sunlight.
A meeting of the Brotherhood of St. Johns was held on November 16th. A mass was officiated over by the Koganei Catholic Church archdiocesan priest Father Kato, and then two short DVDs: "The 75th Anniversary of the St. John's Congregation" and "The young members of St. John's congregation" were screened. Following that, we enjoyed a small tea party with those who had attended in the library of our Koganei congregation's library. The congregation is extremely grateful to these members who always pray and try to live out the spirit of our society in their daily lives.
 On October 26th, it was the annual vow taking ceremony of St. John's Congregation. This year there were many celebrants. One sister taking her first vows, another her silver jubilee and two each their gold and diamond jubilees. It was a great time for our group. Sister Andrea Kim Miri, who has just started her dedicated life as a St. John's sister, after her initial training period, could not celebrate with her parents unfortunately. However, there were many others to celebrate it with her, e.g. people from the Fuchu church where she initially came from. This will definitely be a big advantage for her life to come. Archbishop Kikuchi said that the birth of a new sister was a great treasure for the church. As a daughter of the Church, I think she will want to live the charisma of the congregation together with our beloved lord. And that goes for other members of the congregation renewing their vows here today.
On October 25, the annual vow renewal ceremony took place under the guidance of Father Yutaka Kato, the archdiocesan priest for the Catholic Koganei Church. During the evening there was also a dedication ceremony for an aspirant who will start her next phase of training. There was also the blessing of the sister's habit who will make her first vows on the 26th.。

On June 9th , in commemoration of the 75th anniversary of our founding, we had an exchange meeting with the members of Koganei Church and St. John Brothers and Sisters' Association. We were worried because it had been drizzling a little from the morning, but when it came time for the gathering, while not superb weather it let up so as to not spoil the day. Thanks be to God.

75th anniversary of the founding of St. John's Congregation
June 8th is the anniversary of the founding of our congregation. It was founded 75 years ago, and all of our sisters thank God for the graces which He has bestowed upon us. The 8th is also the eve prior to Pentecost Sunday which is also of great significance. We are extremely grateful that the Holy Spirit, who bestowed great graces upon our founders 75 years ago, still supports us. The Holy Spirit has continued to lead us during various trials and when we have lost sight of the future.


Cycling around Lake Yamanakako and a visit to Fuji St. John Facility
On May 3 during the long holidays, the aspirants, postulants, and one other headed Oshino Village in Yamanashi Prefecture early in the morning. Blessed with wonderful weather, the magnificent Mt. Fuji welcomed us. Taking a direct bus from Mt. Fuji Station to Lake Yamanaka we rented bicycles on the lake and went around Yamanakako. A refreshing breeze blew through the beautiful fresh greenery of the lake, and we were fascinated by the beautiful scenery of another world. We got off our bicycles on the way and viewed beautiful Mount Fuji from the lake again and again.